Entrepreneurs say shipping containers create quality, inexpensive housing
01-04-2019
Entrepreneurs say shipping containers create quality, inexpensive housing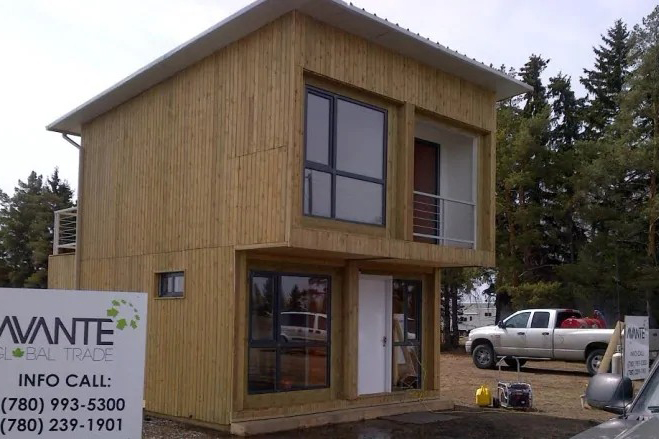 This container home in southwest Edmonton is a single pilot model built by entrepreneurs Sergio Torres and Chad Osman. (Rod Kurtz/CBC News )
It may look average. But this tiny house deep in southwest Edmonton is far from typical.
The 640 square foot, two-storey house was shipped from China in steel shipping containers. What's different about this model is that the shipping containers themselves make up the home's foundation.
Entrepreneurs Sergio Torres and Chad Osman are convinced there is a market for this unusual building concept in Alberta.
Torres first saw it on television.
"It got me wondering. 'What would be the step to take this from just people that really dare to do things differently to the everyday home?'" he said.
Torres phoned an Edmonton company specializing in ecologically-friendly construction to get ideas. Osman, the builder's son, joined the project and they ordered their first container home.
Upon first sighting, he admits he was surprised.
"I looked at it and I thought 'wow, that's neat!'" said Osman. "How is that a house made out of containers?"
It didn't take long for him to see how easily the process could work.
The containers come with everything needed to finish a home, including the insulation, drywall and electrical. Two or three workers put it all together using only a crane, wrench, caulking gun and drill.
The pair believes container homes offer an inexpensive alternative to the hot housing market. They say the home they built on Ellerslie Road near 181 Street would cost about $60,000.
It's also the first of its kind in Alberta.
"We've heard of it in B.C. and Ontario, but in Alberta there's nothing. So I thought to myself - let's bring a sample here," said Osman.
"Let's try it out."
In Canada, there is already a motel made of Sea-Cans in Estevan, Saskatchewan. And a women's social-housing development in Vancouver was built from 12 recycled shipping containers.
Torres and Osman see room for similar opportunities in this province. They've already been in touch with interested businesses. And they have plans to pitch the concept in the Alberta oil patch where housing space is limited.
This container home in southwest Edmonton is a single pilot model. But the pair hope to market larger projects soon - including a design for an office building.